The Chancellor's message to the countries of Africa was this: "We are aware of our responsibility and we will honour our commitments." The G8 needed to "fulfil the promises we made," she said.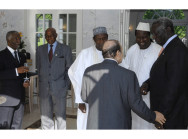 Photo: REGIERUNGonline / Bergmann

Welcome at the assembly rooms
At the same time, the G8 and the African partners were in agreement that they would also have to fulfil their commitments, for example as regards democracy and good governance. Now the task was to see what had already been achieved in that respect and what still remained to be done.
Speaking on behalf of the African Union (AU), the Chairman, Ghanaian President John Kufuor, said that African countries were also prepared to play their part in making the Outreach Process a "true partnership".
Kufuor proposed establishing a body which would be responsible for supporting and regularly reviewing the co-operation.
US$60 billion to combat infectious diseases 
Over the coming years the G8 will be making a total of US$60 billion (around €44 billion) available to combat HIV/AIDS, malaria and tuberculosis. This is to be used to safeguard universal access to comprehensive HIV/AIDS prevention programmes, treatment and care, and to develop health systems at local level.
Particular attention in the fight against infectious diseases is to be paid to the needs of adolescent girls, women and children.
Germany will be providing €4 billion to support efforts to combat these illnesses.
A continent on the move
In their Final Declaration on Africa, the G8 underlined again their strong interest in a stable, democratic and prosperous African continent. The governments of the G8 countries stressed their firm resolve to implement the commitments made at the 2005 G8 Summit.
The historic debt relief is "well on the way", the document claims. Official development assistance (ODA) for Africa will be increased by $25 billion a year, compared to 2004, by 2010.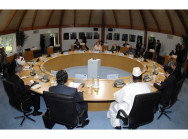 Photo: REGIERUNGonline / Bergmann

Working session
Despite political and economic reforms and the associated economic growth in countries in Africa, the G8 feel that much still remains to be done. A "vigorous impetus" seems necessary to ensure that Africa will achieve the Millennium Development Goals (MDGs) by 2015.
A further set of measures is thus to be introduced to promote sustainable development in Africa. The leading industrialised nations have made the following commitment: "We will focus on promoting growth and investments in order to combat poverty and hunger, to foster peace and security, good governance and the strengthening of health systems, and to assist the fight against infectious diseases."
The G8 countries also pledged to support their African partners in meeting the challenges they face when it comes to climate policy. They also want to contribute to strengthening political structures, to promote investments and to development the local economy. The Summit Declaration "Growth and Responsibility in Africa" lists the 63 commitments which cover a wide variety of issues.